LIVING WATERS ASSEMBLY OF GOD MISSIONS
Living Waters Assembly of God (LWAOG) is fully committed to spreading the Gospel of Jesus Christ, and providing assistance for the needy and the poor in Spirit, in our community and the world around us.
We, as a church family, are so blessed to have so many willing to serve with joyful hearts. We may be a 'small' church by some standards, but what we lack in numbers, we make up for in devotion to Jesus Christ and all of His children, great and small. Hallelujah! Amen.
Jesus said, "For I was hungry, and you gave Me something to eat; I was thirsty, and you gave Me something to drink; I was a stranger, and you invited Me in; I was naked, and you clothed Me; I was sick, and you visited Me [with help and ministering care]; I was in prison, and you came to Me [ignoring personal danger].'" Matthew 25:35-36
". . . if any man serve me [Jesus Christ], him will my Father honour." John 12:26
"My little children, let us not love in word, neither in tongue; but in deed and in truth." 1 John 3:18
REACHING THE WORLD FOR CHRIST THROUGH MISSIONS AND MINISTRIES
Feed The Flock
'Be Filled': Every Thursday, from 11:30 a.m to 1:00 p.m., at the Church property, 450 Davis Street, Greenfield, Massachusetts 01301, we are providing FREE bag lunches for anyone who needs one. Come! Join us in fellowship, and share a meal.
Please share this message, and help us feed the community. God Bless!
Thanksgiving Day Feast: For the last seven years, we have been blessed to have been able to feed the community a very delicious, homemade and free Thanksgiving Day feast. In 2021, we provided around 150 meals in three hours, including delivery to anyone unable to come in person, as well as curbside service in front of the church.
Many blessings to Keila Cruz and the entire Cruz Family, as well as all of the volunteers who help in these ministries to Feed the Flock, and thanks be to God for their tireless dedication to our Lord and Savior Jesus Chist, and for listening to His call. Praise God! Amen.
Adopt-A-Family
May God's favor shine on Jodi Chaplain as well, and the volunteers who have helped her with the Adopt-A-Family Christmas program for the last several years. Their endless energy, patience and charity for this cause is inspiring.
In 2021, we were able to assist 22 families at Christmas, two to three children per family, $100 per child. Thank you, Jesus! And Jodi!
Operation Christmas Child
Operation Christmas Child is a ministry of Samaritan's Purse, and reaches children in the United States and all over the world.
Watch a short video here, and experience the love and joy of children opening their gifts. For many, this is their first time ever receiving a gift.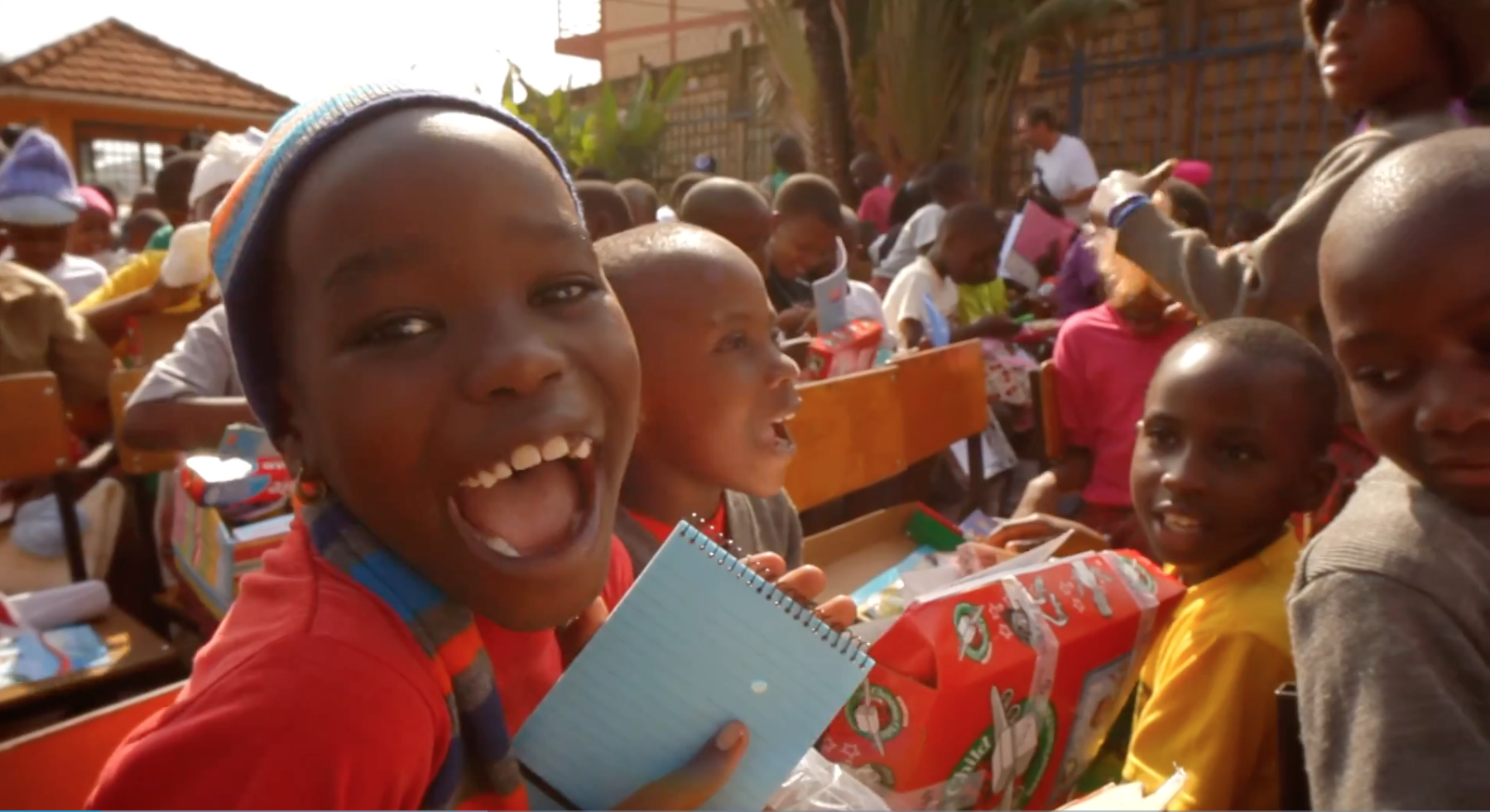 "Since 1993, over 188 million boys and girls in over 160 countries have experienced God's love through the power of simple shoebox gifts from Operation Christmas Child. Samaritan's Purse works with local churches and ministry partners to deliver the gifts and share the life-changing Good News of Jesus Christ."
At LWAOG, our local Operation Christmas Child Ministry has been directed by Barbara Sund for several years, along with her faithful husband and worker, Verne Sund, and a committed crew of volunteers. Together, every year, they pack and provide hundreds of Christmas shoe boxes filled with necessities and gifts of all kinds, along with the Gospel story of Jesus Christ.
The church family appreciates Barbara, Verne and all of the volunteers, for their tireless devotion to Operation Christmas Child. The entire project is no small undertaking, and Barbara and the team handle it efficiently, with joyous and giving hearts. They truly are Warriors for God in this tremendous service to Jesus Christ.
In 2021 alone, our Operation Christmas Child Ministry packed and processed almost one thousand tiny, little, shoeboxes, to be distributed in the United States and across the world, to tiny, little, Children of God. Hallelujah!
Pastor David's Community Outreach
For some time now, Pastor David has made it his personal mission to reach our surrounding neighbors with the Gospel of Jesus Christ, by literally walking the streets of the neighborhoods, and passing on the hope of which the world is so desperately needful, which is our Lord and Savior, Jesus Christ. Thank you, Father God, for bringing Pastor David to Living Waters Assembly of God. He is truly blessed, and a blessing, and he brings meaning to the saying, Practice what you preach! Hallelujah!
Trunk Or Treat
Every year, LWAOG closes down its church parking lot to traffic, and opens it up to the children of the congregation and surrounding communities, for a Trunk or Treat celebration. We utilize this opportunity to spread God's Word, introduce children to Jesus Christ, and introduce families to our church. In 2021, we had almost a hundred families come through the church parking lot. God is Great - All the Time!
As usual, much appreciation and many blessings to all those who participate in this event in any way.
Youth and Children's special gatherings
At LWAOG, we never miss an opportunity to spread the Word of God and the Good News about His Son, Jesus Christ, to the children and youth of our community and surrounding areas.
On various holidays throughout the year, we open up the church to the community, and invite children from far and wide to join us in celebration of Jesus. He is the center of everything we do, and we do it all for the glory of God! 1 Corinthians 10:31
We are truly blessed as a church family to have so many devoted volunteers, eager to earnestly serve our Lord and Savior. May your rewards from God be abundant. Amen.
Assemblies of God World MISSIONS
In addition to LWAOG's ongoing, local community outreach described above, we are part of an Assemblies of God movement that reaches almost 200 countries and 2,700 missionaries, with a membership of over 69 million worldwide.
If you would like more information about our missions, or are seeking support as a missionary, please contact us at here , or check out our global mission movement, Assemblies of God World Missions (AGWM.org).